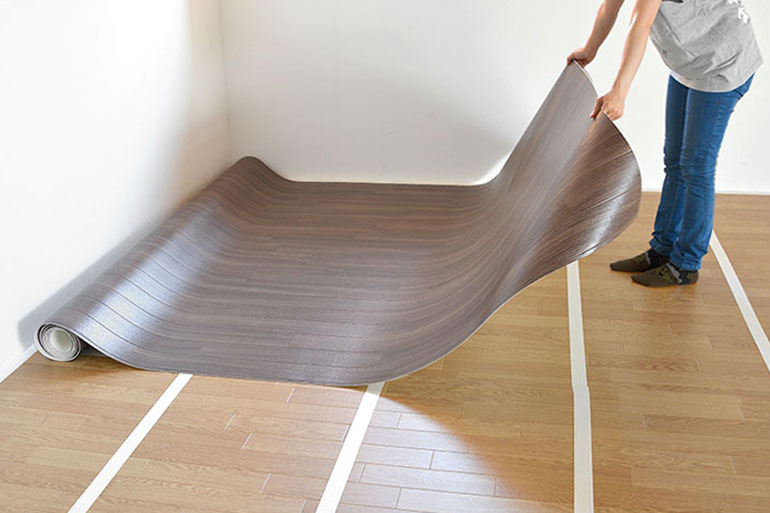 Cushion floor sheet / Soft floor sheet from Japan Toli
Cushion floor sheet are easy to install as it does not requires any special types of equipment. All you need is double-sided tape ,cutter knife and spatula only.
We have two types size for this item: 1) 90cm width floor. 2) 180cm width floor
Soft floor sheet installation steps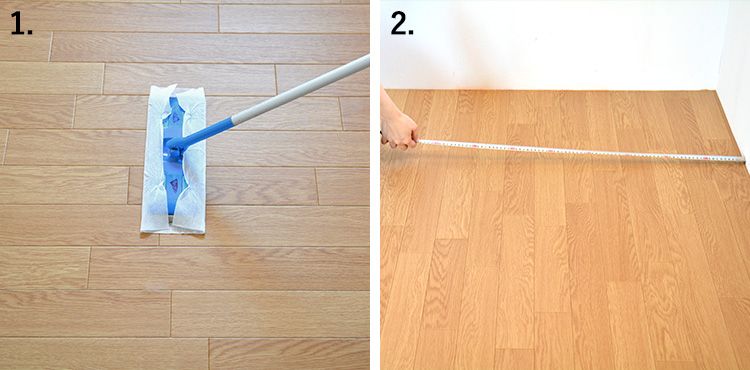 Clean the are where you plan to lay the "cushion floor sheet"
Measure the size of the area and decide the direction you wish to lay the sheet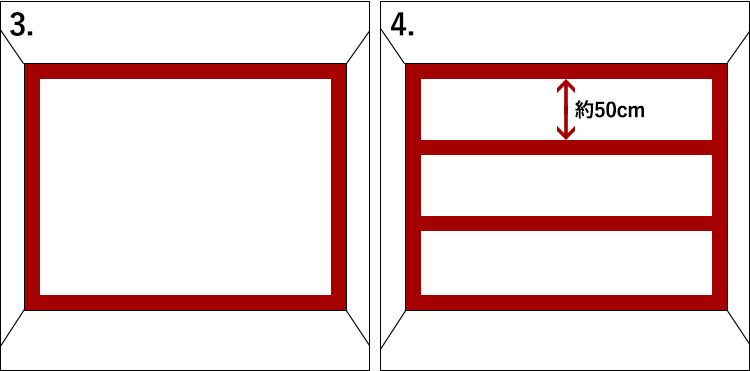 3. Paste the double-sided tape in a square pattern on the floor
4. After pasting the square pattern, paste 2 horizontal bars with the tape leaving 50CM in between each bar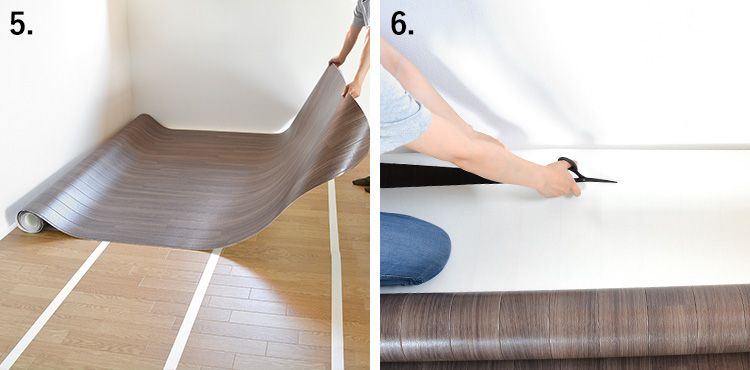 5. Roll over the flooring over the area you wish to install without peeling off the tape
6. Leave a 5cm excess of the cushion floor sheet and cut the desired area out.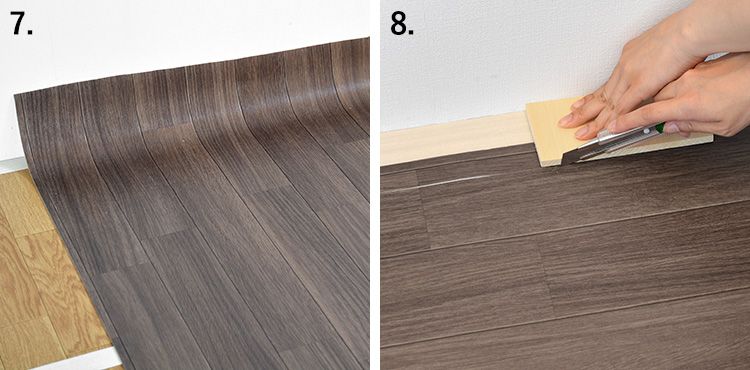 7. Spread the sheet evenly leaving the 5CM excess of roll up the wall
8. If your wall is not straight, we need to cut along the wall line (Horizontal side). If your wall is straight, ignore this step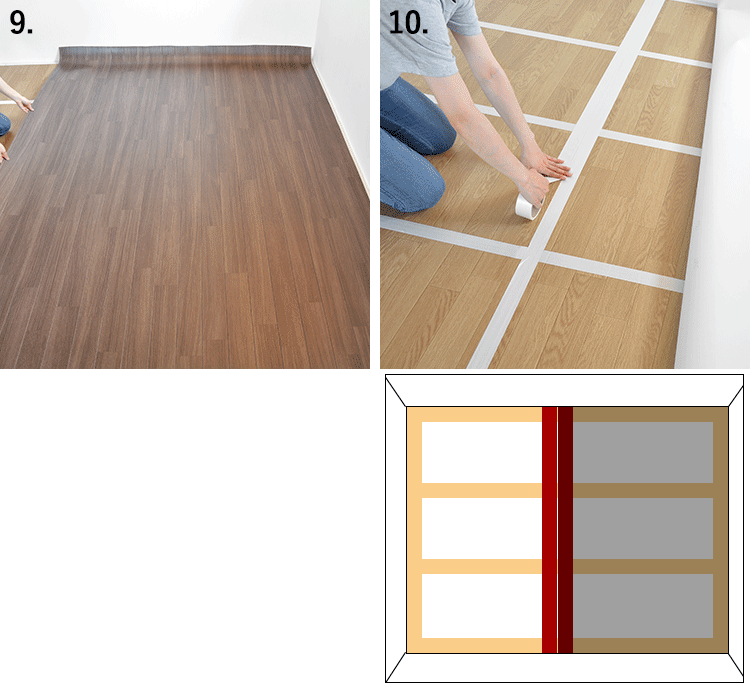 9. Push the cushion floor sheet tightly against the wall leaving no gap between the sheet and the wall
10. Start pasting another line of double sided tape on the area where 2 cushion floor sheet are going to join.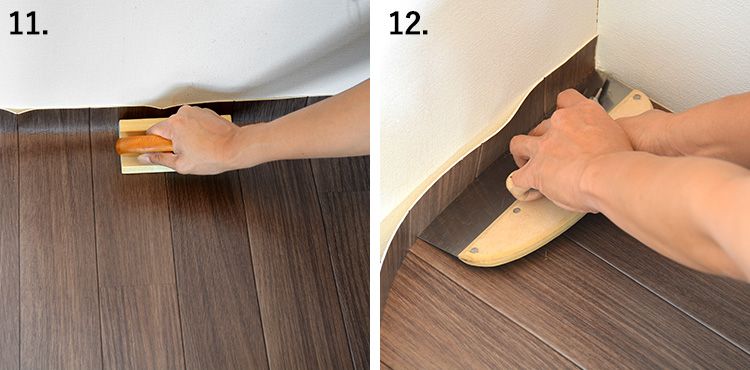 11 &12. Cut the excessive sheet using spatula and knife (*Do not remove the double-sided tape)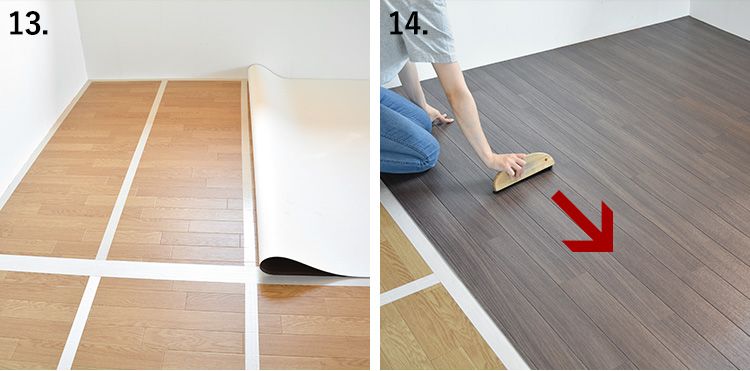 13. Fold up half of the sheet and start removing the protective layer of the double-sided tape from one side.(right side or left side are both ok) After peeling the tape start laying the sheet back down and use the spatula to ensure it is completely evenly with no air bubbles.
*You can use your hand to flatten the flooring but a spatula is recommended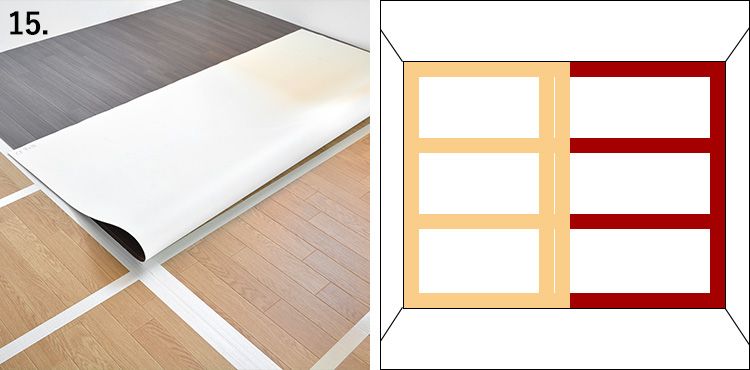 15. The double-sided tape at this point should look like the figure on the top right, the yellow tape representing the side with the fully installed flooring and the red tape representing the other half to be installed now it's time to stick the other half! repeat the same process in Step 14.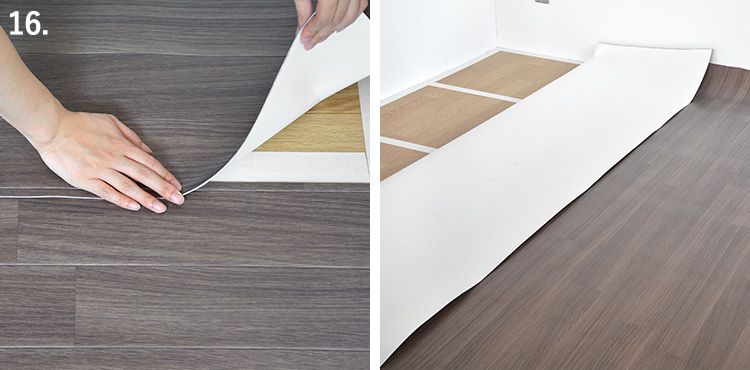 16. For the joining area, just let it be over lap about 5cm, don't cut yet, just leave it first, let's do corner first, then come back for "joining area double cutting work"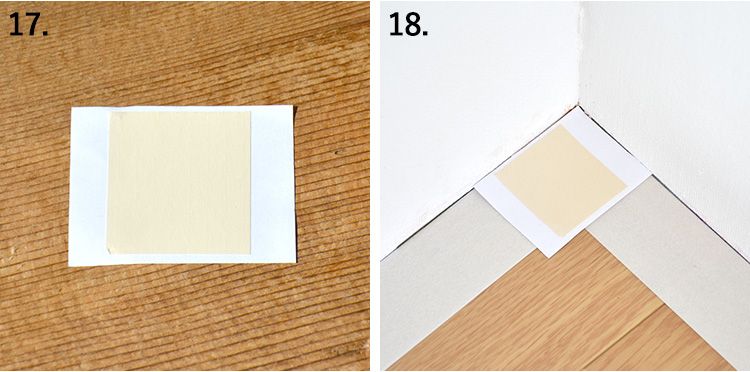 17&18. just use any square left over floor sheet, and paste double side tape on it, and put this piece on the original floor corner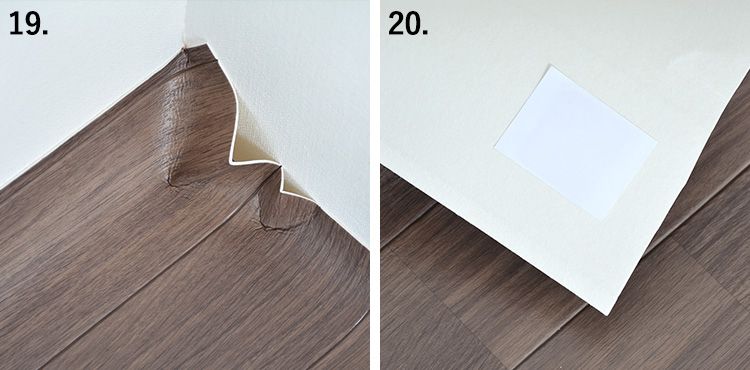 19&20. you can put down new cushion sheet on it, so the square piece will stick on your new sheet back side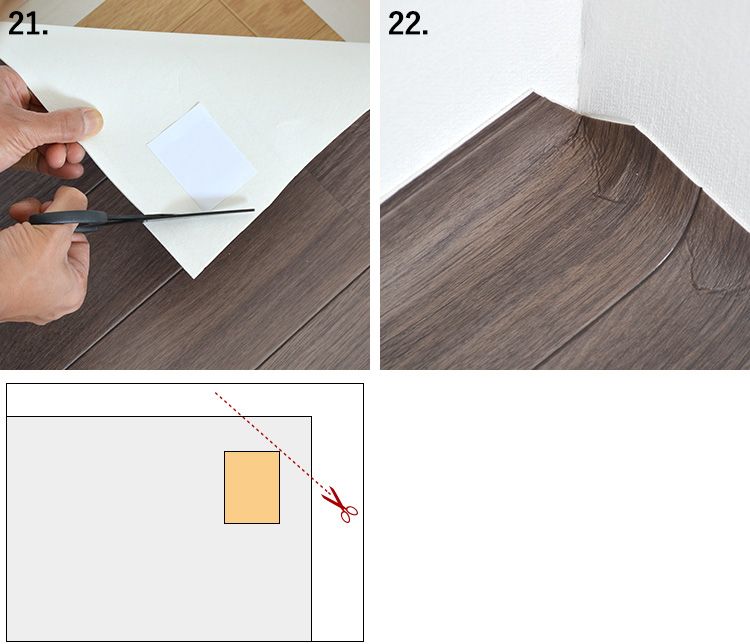 21&22. Lets cut same as above photo, now you got the corner edge correctly down to the wall corner, lets cut excessive floor against your wall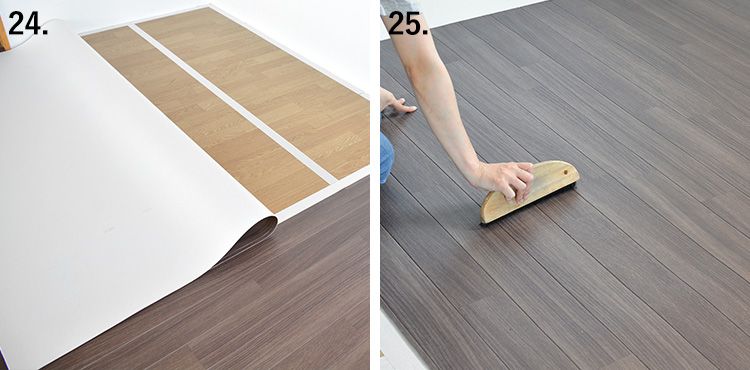 23, 24&25.
Back to No.15 above, keep doing right side double side tape sticking work, after that smoothen floor, make sure floor sheet evenly stick on below floor with double side tape. Now lets doing joint area double cutting work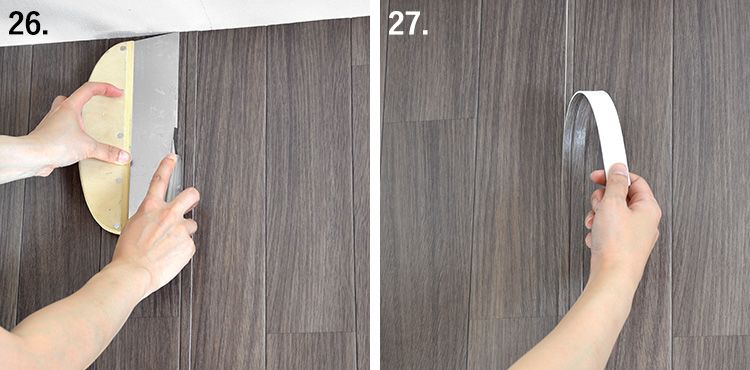 26&27. Not all the design need to double cut, it's your choice and option, if you want a perfect pattern look, you need "double cutting", if you are okay with a slightly less seamless look, no "double cutting" is required.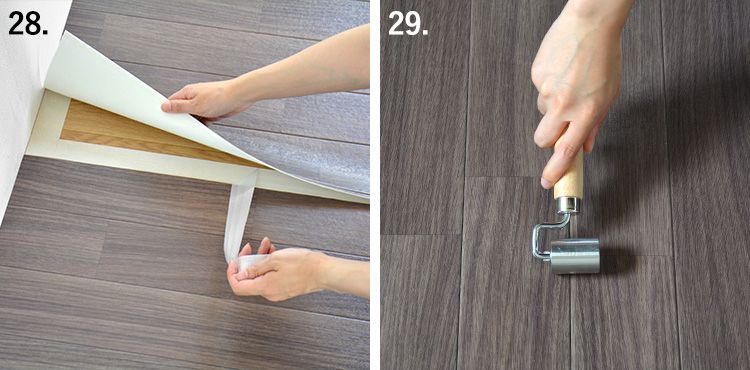 28&29. Remove the protective layer of double side tape in the joint area and use a roller or spatula tools to smoothen it.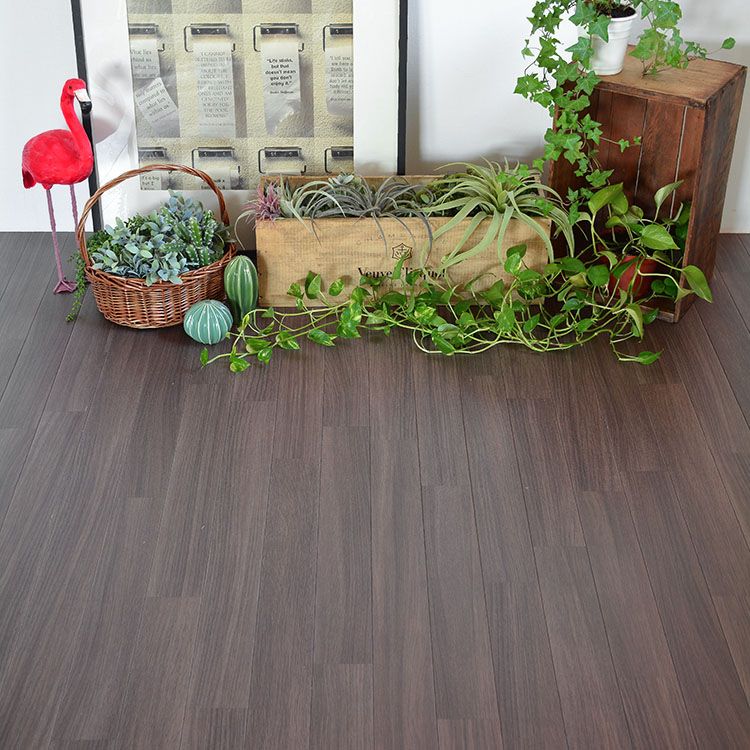 To view all the design available in Singapore click here Honpo Japanese cushion floor list if you want to see all other types of floor material please click Honpo flooring list
Introduction of cushion vinyl floor sheet
Japanese cushion floor sheets are a type of vinyl flooring that is softer, easier to install and remove. Traditional Vinyl floors are popular among house owners due to their varied designs and affordable cost. However, they do come with their cons. Take removal, for example, it is incredibly difficult and frustrating to take out a vinyl floor panel to replace it due to damage or just general wear and tear. Not to mention, that it is easily dented by heavy items and household appliances. Cushion floor sheets are designed to erase these flaws. Cushion Floor sheets are soft preventing dents from forming as well as providing cushion. They are also shock-absorbent, anti-bacterial and anti-fungal making them a more sanitary option.